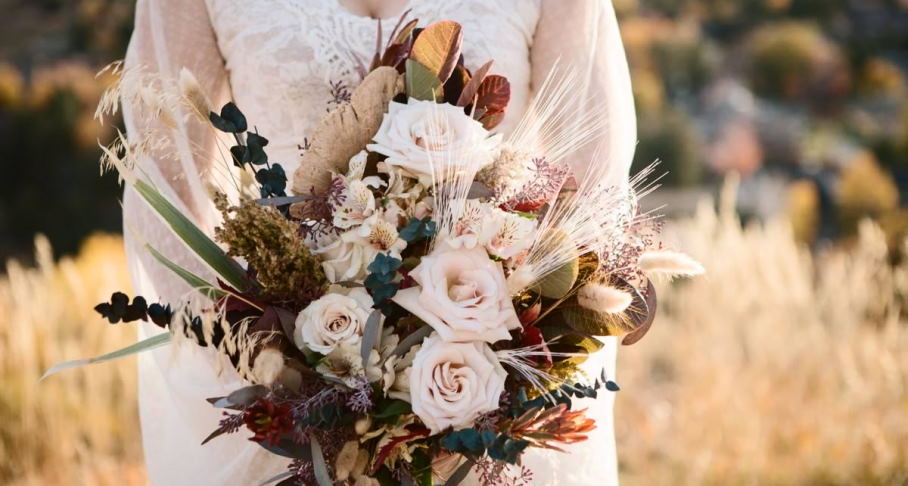 Bouquets for a Fall Wedding: Seasonal Floral Arrangements
When autumn begins to settle in gracefully, so too should the colors and arrangements of your wedding. So here are a few ideas for incorporating seasonal flowers into your big day!
Arrangements can add an earthy feel to any space, and with fall's crisp temperatures and changing leaves, they can be just the touch your wedding needs to feel autumnal. Try incorporating branches of different shapes and sizes into your florals, or go for full-on pumpkin centerpieces! No matter what route you choose, these charming bouquets are sure to sweeten up your wedding day.
How to choose the perfect fall wedding flowers
Fall is a beautiful time of year to get married, and there are many ways to incorporate the best of the season into your wedding day. From the colors of the leaves to the bounty of seasonal produce, there are endless ways to make your fall wedding unique. One way to do that is with seasonal flowers.
There are so many gorgeous flowers in season during fall, and incorporating them into your bouquet is a great way to add a touch of autumnal beauty to your wedding day. Here are some of our favorite fall flowers for bouquets:
Dahlias: Dahlias come in a wide range of colors, making them a great option for creating a bouquet that matches your wedding colors. They're also very hearty flowers, so they'll hold up well on your big day.
Chrysanthemums: Chrysanthemums are another flower in many different colors, so you're sure to find the perfect shade to match your wedding palette. They're also known for being long-lasting, so they'll stay fresh throughout your entire wedding day.
Sunflowers: Sunflowers are the perfect choice for a fall wedding bouquet because they embody all of the warmth and happiness of the season. Plus, their large size makes them a dramatic statement in any arrangement.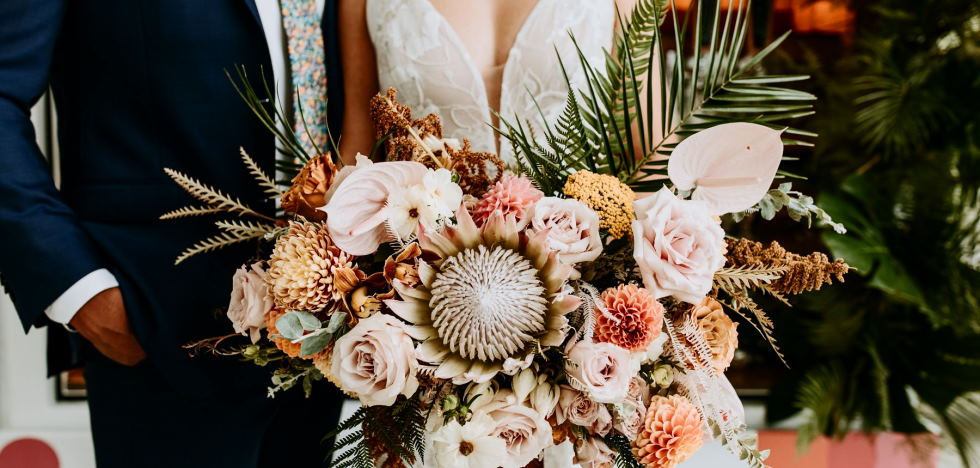 Roses: Roses are always a classic choice for a wedding bouquet, and many beautiful varieties bloom in the fall. From deep reds to soft pinks, you'll surely find the perfect rose shade for your bouquet.
No matter what flowers you choose for your fall wedding bouquet, incorporating them into your big day is a great way to add a touch of seasonal beauty.
Fall wedding bouquets: beautiful and elegant ideas for your special day
There's something so special and romantic about a fall wedding. The colors, the cooler temperatures, the cozy feeling in the air… it's all just perfect for a beautiful, elegant wedding. And what's more elegant than a gorgeous bouquet?
If you're planning a fall wedding, take a look at these beautiful fall wedding bouquet ideas. From rustic and earthy arrangements to colorful and vibrant blooms, there's sure to be something here that catches your eye.
Rustic and Earthy Fall Bouquets
Consider using bouquets made with seasonal flowers like sunflowers, daisies, and chrysanthemums for a rustic or earthy fall wedding theme. Add in some greenery and branches for a more natural look, and use burlap or lace wrapped around the stems for a rustic touch.
Sunflower Bouquet: This sunflower bouquet is the perfect mix of rustic and pretty. The yellow sunflowers are bright and cheerful, while the green eucalyptus leaves add a touch of earthiness.
Bouquet with Daisies and Chrysanthemums: If you want a truly fall-inspired bouquet, try using seasonal flowers like daisies and chrysanthemums. This arrangement uses flowers, some greenery, and baby's breath for a beautiful bouquet that screams fall.
Burlap and Lace Wrapped Bouquet: This bouquet is wrapped in burlap and lace, giving it a rustic, country-chic feel. The mix of flowers – including roses, dahlias, and zinnias – makes it perfect for a fall wedding.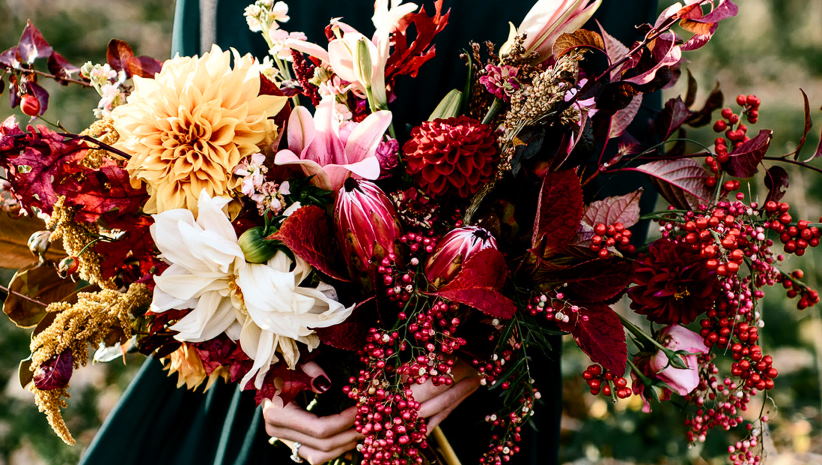 Vibrant and Colorful Fall Bouquets
Just because it's fall doesn't mean your bouquet has to be all earth tones and muted colors. If you prefer a brighter, more vibrant look, try using colorful flowers like roses, lilies, and tulips in your arrangement.
Pink Rose and Lily Bouquet: This beautiful bouquet mixes pink roses and white lilies for a pretty and feminine look. Adding the baby's breath and greenery help to fill out the arrangement and make it lusher.
Tulip Bouquet: Tulips are another great option for a fall bouquet, and they come in so many different colors. This orange tulip bouquet is perfect for a fall wedding, with its vibrant color and simple design.
Bright and Bold Bouquet: This bouquet is the perfect mix of bright, bold colors – orange, yellow, pink, and purple. The different textures of the flowers – roses, dahlias, and zinnias – add interest and depth to the arrangement.
Elegant and Sophisticated Fall Bouquets
If you're looking for something more elegant and sophisticated, try using classic flowers like roses and calla lilies in your bouquet. Then, add some greenery for fullness, and use a ribbon or lace to tie it all together.
White Rose and Calla Lily Bouquet: This bouquet is simple but stunning, with white roses and calla lilies accented by green hydrangeas. The addition of the pearl-accented ribbon gives it a touch of elegance.
Roses and Lace Bouquet: This arrangement uses classic red roses, accented with baby's breath and greenery. The bouquet is wrapped in a lace ribbon, giving it a romantic and vintage feel.
White Orchid Bouquet: Try using white orchids for a truly elegant bouquet. This bouquet is simple but beautiful, with just a few stems of white orchids accented by greenery.